The other day I was riding home with several books on the front seat. One of them was a book I had bought some time ago by
Warren Wiersbe
entitled
"The Bumps Are What You Climb On".
I took advantage of each red light to glance at a few lines. Fortunately I didn't have any angry drivers honking at me when the lights turned green and I was still "reading". As I got nearer home I thought of another book by Wiersbe entitled
"Walking With the Giants".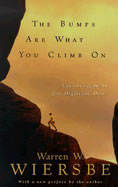 This excellent book recounts the lives of some of the Heroes of the Faith. Pulling into the driveway I realized that I love to
"Ride With the Giants".
It was good to have Warren Wiersbe riding with me. Books are not just paper and ink bound nicely. They are personalities. That's why I enjoy reading so much. I can get to know that authors. Today
A. W. Tozer
rode with me. His classic,
"The Pursuit of God"
was my reading choice as our boys played in the Playplace at McDonalds. Which "giants" are you reading today? Do you take a book with you to read while you're waiting in line? Why not Ride With the Giants?