Recently a good friend, a deer hunter, related to me how God often speaks to his heart in the early morning hours while he's been sitting, quiet and still, in a tree stand. I've heard that it's darkest just before dawn. My friend agrees. He said that while waiting in the darkness for a deer to venture by, God would seemingly peek over the eastern horizon bringing glimpses of the dawn with His heavenly gaze.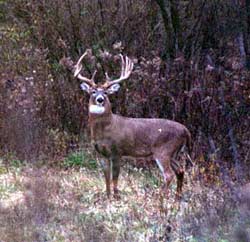 View from a Tree Stand
As He'd look out over the landscape He'd speak peace and assure my friend of His eternal presence and watch-care over His people. What a way to begin a new day! With the Father's gentle reminder that He is always there. Even though we can't see Him, He's looking out over His creation, His people, and seeing every need, every care, every heartache. What about you? Are you going through a dark trial right now? Are you stumbling in the shadows and can't find your way. Look up! Even though you can't see His face or discern His voice, He is there, peeking over the misty horizon of your life . . . and He cares. Call out to Him. He will answer in the darkness and give you His wonderful Light, the Morning Star.
"We couldn't be more sure of what we saw and heard - God's glory, God's voice. The prophetic Word was confirmed to us. You'll do well to keep focusing on it. It's the one light you have in a dark time as you wait for daybreak and the rising of the Morning Star in your hearts." (1 Peter 1:19) - The Message